OVERCOME YOUR

BIGGEST
SILICA

CHALLENGES
SureMix® CO2 — The New Benchmark in Silica Compound Processing.
With SureMix® CO2 the class leading performance enhancing process aid, tire and rubber component manufacturers can finally overcome silica processing challenges, while achieving efficiency goals. Our new patented technology is designed to: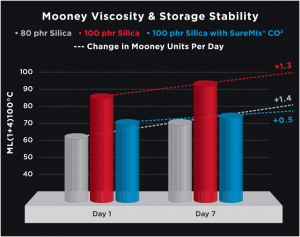 Reduce Mixing Time & Processing Costs
Improve Green Compound Shelf Life
Reduce Energy Consumption
Increase Silica Loading or Surface Area
Lower Rolling Resistance
Enhance Tire Handling & Wet Grip
By using SureMix®, tire companies have been able to increase silica loading by 20-30% while maintaining processability. Higher loadings improve tire handling and wet grip — a key safety parameter. Additionally, the viscosity reduction has been leveraged to support the adoption of higher surface area silica's, which helps close the gap on carbon black reinforced tires.
Even though SureMix® was developed for silica compounds, similar benefits have been observed in carbon black formulations, significantly increasing the applications and strike zone for SureMix®.
If you need to optimize silica compound processing without compromising performance, We Can Help.